WHACC is happy to share this article sent to us by NOACC, originally written by marketer Christina R. Metcalf and distributed by FrankJKenny.com.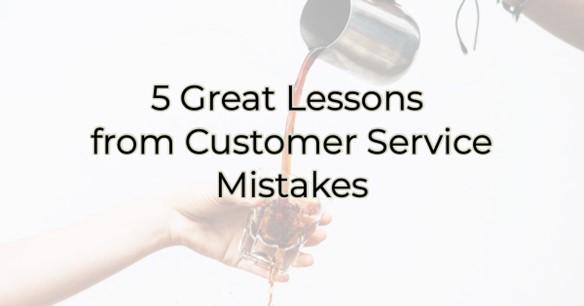 A cruise ship captain once said, "There's always a weird person at your dinner table. If you're sitting with several couples and you can't figure out who the weird one is, chances are it's you."
The same can be true of customer service.
Every business is convinced they offer stellar service but if you can't think of a company in your area that offers bad service, it might be you. It's statistically impossible, not to mention an abuse of a superlative, for every business to offer "the best" service. One is better than the other. We aren't all 5-stars all the time.
But that doesn't mean we can't learn from the experience.
5 Great Lessons from Bad Service
If you've recently received some bad reviews or customer service complaints, here's how you can learn from them.
Listen and respond. Most people will give a business another chance if they feel heard and if something was done to remedy the situation. The remedy may be offering a free service, discount, coupon, or other incentive to try your business again. A florist that missed a delivery deadline for a special occasion and failed to communicate the error, credited the customer 125% of the order and guess what that customer did? They gave the florist a second chance. This time their delivery and product were flawless. Mistakes happen. Most people understand that.
Under promise and over deliver. It's always good practice to build in a buffer of time (or cost) on a project or delivery. The customer will be pleasantly surprised when it takes less time (or money) than expected. A doctor's office admin shared that they tell everyone a specific series of testing will take three hours, but it usually only takes two and a half, although it can take three. She said that way everyone is pleasantly surprised and not upset. When they used to tell patients two and a half hours, any minute over that meant angry patients yelling at their staff. Now everyone is prepared and expects three so if it takes less than that, they're thrilled.
For more lessons to improve your customer service, read the full article here.