WHACC is happy to share this article sent to us by NOACC, originally written by marketer Christina R. Metcalf and distributed by FrankJKenny.com.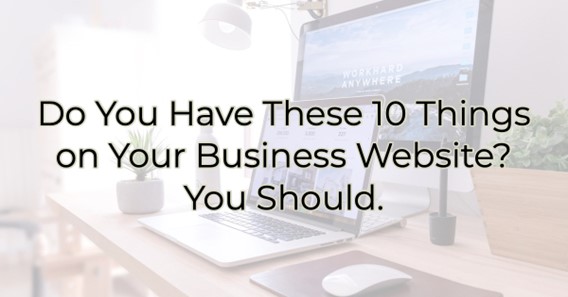 If you're a small business, you probably bootstrapped your website content, picking it up here and there, copying what you like from other sites (hopefully not word for word), and adding as you go. That's the way most small businesspeople do it unless you're lucky enough to know someone who offered their writing services or have it in your budget to have it written for you.
But do you ever wonder if you have the type of content that will transform the casual web visitor into someone who buys?
Here are the components you need on your website to ensure more sales conversions.
Top 10 Most Critical Website Content
Don't let this list overwhelm you. While it's extensive, you can check these things off as you go or work with a copywriter and designer who can accomplish most of this quickly.
If you want more sales, you need these things:
Keyword rich content. You need people to find you, but you also want them to read your content. It takes finesse to write for humans and search engines. Make sure you have plenty of keywords in your text for SEO but that they work in a way that will also be appealing for your audience.
Mention of where you are. Your website can be seen all over the world and you're not the only "Columbus" out there. Somewhere you need to mention your area. This not only tells visitors if they can come take a look in person but also helps with SEO and local web referrals. Many businesses incorporate the mention of the surrounding areas in their content, not just in the footer.
Call to action. People are spending time with you. Give them a next step with a call to action. Make sure your CTA matches the page the visitor is on. "Learn more" linking to additional resources is a solid choice for introductory pages. "Work with us" is better for more in-depth content.
Click here to keep reading and learn seven more pieces of content that are essential to the success of your website.